Not every growth of pigment-forming skin cells is a harmless birthmark. Regularly check your skin and moles for changes and go for regular mole checks.
In our practices in Tulln and in Vienna you can have your moles examined and removed.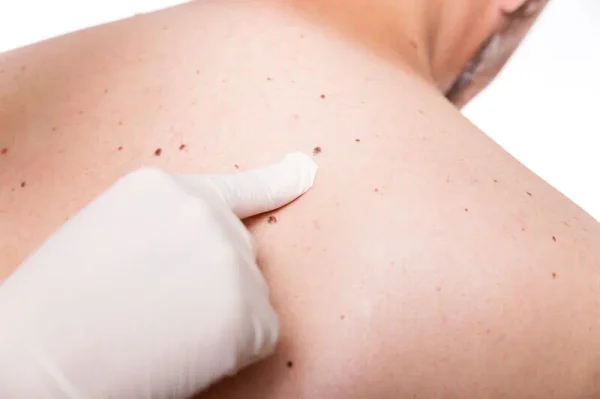 What is a birthmark?
The term mole (nevus) refers to all types of benign skin growths. A birthmark can be brown in colour (hence known as a mole) or consist of red cells from blood vessels or yellow sebaceous gland cells. Moles are usually harmless, but can develop into a skin cancer. Checking moles is recommended once a year. An early diagnosis and subsequent therapy significantly increases your chance of a complete cure.
Birthmark removal in Vienna
In our practice in 1180 Vienna, both the necessary preventive examinations (skin cancer screening) and the desired removal of moles for medical or aesthetic reasons can be carried out professionally and with the most modern techniques. If a birthmark cannot be clearly identified as benign, it should be removed and histologically examined as a precaution.
Regular birthmark check as skin cancer prevention:
Skin cancer has become one of the most common cancers in recent years.
With a regular birthmark check, this risk can be significantly reduced. The preventive examination is performed painlessly using a digital reflected-light microscope. The reflected-light microscope is a special magnifying glass with light that uses tenfold magnification to look into deeper layers of the skin and detect altered structures of moles. If the diagnosis is uncertain, small tissue samples can be taken or the moles can be removed immediately.
What features should you look for in a nevus?
The following points speak for an early presentation to the dermatologist:
The birthmark (mole) is asymmetrical (usually round or oval).
Its normally smooth, sharp edges are frayed or unclearly defined.
It has changed its previous colour or has inconsistent colours.
The nevus is getting bigger.
It changes its characteristics (itches, oozes, bleeds or rises).
Skin cancer screening
A regular, e.g. yearly check of the birthmarks is always sensible! No matter what age you are, not every birthmark is harmless. Protect yourself with regular skin cancer screening at the dermatologist. 
Birthmark - Melanoma Comparison Table
The criteria shown in the figure help to systematically distinguish the appearance and changes of moles from melanoma (skin cancer).
Frequently asked questions about birthmark control and removal
Competence and empathy
I went to Dr. Orasche because of reddening of the skin, mainly in the area of the forehead, nose and chin. Quick appointment...
Read more
Ich habe vor ca 4 Monaten von meiner Hautärztin zu Fr.Dr. Orasche gewechselt.
Zunächst war ich von der Freundlichkeit Ihres Teams,…
Read more