There are a variety of ways to have cellulite treated.
Dr Orasche offers both in her Ordination in 1180 Vienna as well as in Tulln, competently and with many years of experience in this field, offers various cellulite treatments.
A detailed consultation is the basis for a perfect result and shows you the possibilities to get rid of cellulite.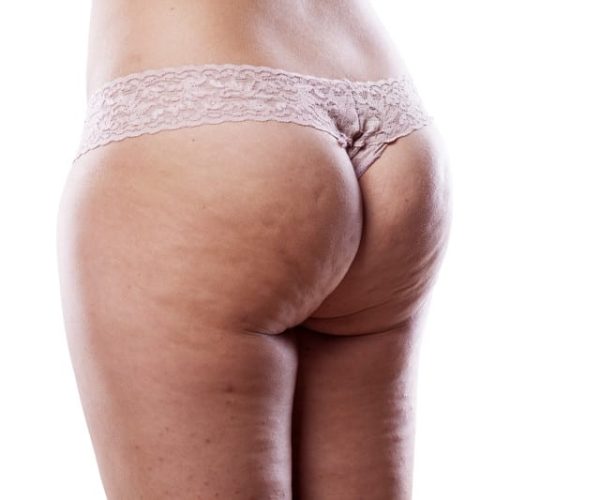 What is cellulite and how does it develop?
Cellulite is the constitutional change of the subcutaneous fatty tissue, which becomes disturbingly visible mainly in the thigh and vascular area. The dents on the surface of the skin resemble the skin of an orange, which is why cellulite is popularly known as orange peel skin. This cosmetic problem almost exclusively affects women, as the female connective tissue is naturally weaker than that of men. The female sex hormone estrogen plays a major role in this. With increasing age, the fat pads can spread even more easily, as the skin elasticity decreases more and more.
Cellulite away methods
Get rid of cellulite with the fat way injection (injection lipolysis):
With this risk-free cellulite treatment it is possible to specifically reduce fat cells in individual areas. Phosphatidylcholine, a natural lecithin from the soybean, is injected directly under the skin into the affected areas using a fine needle. This stimulates the breakdown of fat, whereby the fat is broken down naturally by the body. This method is ideal for people of normal weight who only want to permanently improve certain problem areas. The fat removal injection can be used especially for cellulite (orange peel skin), saddlebags, dents on the lower buttocks, fat deposits around the hips, in the abdominal region or on the upper arms. The body circumference of these regions is measurably reduced after a few treatments. The injection is particularly suitable for people who have a Liposuction reject and look for a cheap alternative to it.
The outpatient treatment only takes a few minutes. Usually 2-4 treatments are necessary. After the treatment, most patients experience temporary redness, itching, swelling or muscle soreness for a few hours.
First results can already be seen after about 10 days. A completely visible result of the fat removal injection is achieved approx. 4-6 weeks after the last treatment and lasts in the long term.
Cellulite treatment with ultrasound:
The ultrasound treatment (Cavitation) fights cellulite in every stage. It can also be used to achieve considerable success in cases of obesity (excess fat deposits). With ultrasound it is possible to reach deeper layers of the skin. The microcirculation is stimulated, which helps to reduce body fat. Ultrasound waves generate different pressure waves that make it possible to weaken and break down fat cells. These emulsify and are excreted through the kidneys within the next few days. To optimise the result, a lymphatic drainage is recommended afterwards.
The result of the ultrasound cavitation becomes visible after a few days after the cellulite treatment.
The number of treatments depends on the patient. Usually 6-10 treatments are necessary. One session lasts about 90 minutes.
Treatment with ultrasound is not suitable for people with heart conditions or active vascular diseases, pacemakers, thromboses, lipometabolic diseases, people who have a metal prosthesis in their body, during pregnancy and breastfeeding or for people who take anticoagulant medication.
Carboxy therapy:
As an alternative to ultrasound treatment, Dr. Orasche offers carboxy treatment, in which medical-grade carbon dioxide (CO2) is injected into problem areas.
Radiofrequency therapy:
Thermal energy is generated in this non-invasive method by means of a radio frequency system that uses the effect of high-frequency electromagnetic waves. The connective tissue of the problem areas is heated up to 45 degrees with a hand-held device and then cooled. This reduces fat cells and at the same time stimulates the collagen fibres. Radiofrequency therapy also boosts the metabolism and helps to dispose of stuck water in the tissue. The cellulite treatment, which lasts about 45 minutes, is usually experienced as pleasant. The warming effect lasts for some time after the treatment.
Ideal is the Radio Frequency Method for stretch marks remaining after the birth of a child, sagging skin and cellulite.
To achieve lasting success, 5 to 10 sessions are usually required.
Contraindications are pregnancy, vascular diseases, heart diseases and diabetes.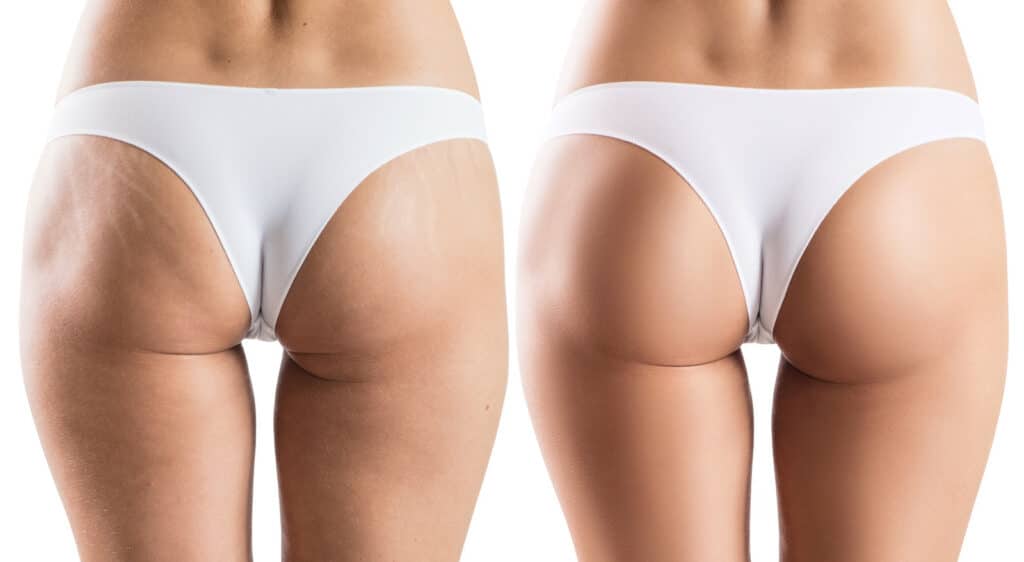 Frequently asked questions about cellulite treatments (orange peel skin)
My skin has finally healed! I have been struggling with acne for years and have seen many other doctors! Nothing...
Read more


I have known and appreciated Dr Orasche for a good 20 years. Sensitive and very competent. I have already recommended her to many...
Read more


counselling as it should be!
You should not only feel comfortable with a doctor, but also receive excellent advice. Dr. Orasche is a...
Read more
Dr. Orasche takes a lot of time to respond to questions and wishes, is very nice and empathetic and you...
Read more

I am a patient with many moles, I even see many. It was always difficult for me (out of fear) to visit a dermatologist....
Read more

Acne cure
My skin has finally healed! I have been struggling with acne for years and have seen many other doctors! Nothing...
Read more